09 Jan

A CHRISTMAS BUCK!!!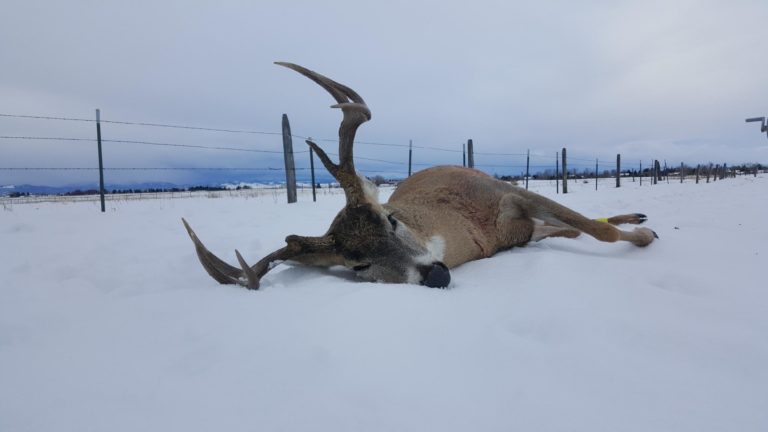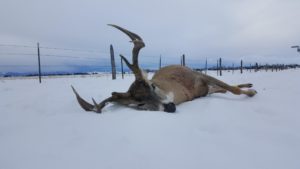 Most hunters are winding down by Christmas. In Montana the season ended the weekend after Thanksgiving. Hardcore Buck hunters hunt through the entire season. January offers late season and managed cull hunts.
In some states, there are special hunts, black powder hunts, crop damage hunts and late archery seasons. In Maryland, there is a Black powder hunt that happens around Christmas. What a great excuse to go shopping!
Several years ago, I kept hunting strong up until Christmas. The Black Powder hunt was on and bucks were still plentiful where I was hunting. My wife encouraged me to hunt until Christmas. Then, it would be time to hang up the Old Hawken Rifle.
The winter had been cold and plenty of snow was on the ground. I started by scouting the area where I was going to hunt. My focus was on bedding and feeding areas. Finding fresh used trails between the 2 areas was important. I hung several strings across the trails to see if they were being used and when. Now I know that the Techy Young Buck Hunters use cameras and drones but… a real hunter knows how to hunt!
The deer were bedding on a heavily forested slope in a park. No hunting was allowed. Each afternoon, they began to travel toward a standing corn field a few miles away. The trail was like a highway through the property where I could hunt.
I tried hunting the deer early in the morning, but they were well on their way back to bedding areas. It was so cold that mid-day hunting was also a waste of time unless I was hunting for the several red foxes that I saw.
My final choice was to enter the woods early in the afternoon. I arrived at my stand around 2:30pm. I would hunt from the ground behind a huge, double trunked poplar tree. A swivel stool allowed me some comfort and mobility.  I also cut a forked shooting stick to support the heavy weight of my Hawken Rifle. It needed to be the length so I could shoot from my stool. Next it was time to range the nearby landmarks to know my shot distances.
No scent was used today. I keep my hunting gear in sealed tub with earth scent wafers for masking scent. I also bathed before hunting and used a non-scent soap. My goal was to disappear into the forest. My camo was a snow pattern. My hat also was a snow knitted style. Safety orange is required so I wore an orange camo pattern vest. Considering half the vest would be against the tree, and no movement from my hat and head turning, would be done.
This was Christmas Eve! I carried a portable radio to let my wife know all was well. This was pre-cell phone time. The long wait was COLD!!! I had layered my clothes, socks, gloves, and coat but it was bitter. Thank God for handwarmers. If you lose your fingers and toes, the hunt is over.
My eyes stayed focused on the well-used deer trails. As the sun set, I was thinking about Christmas morning. What gifts would I get? Would the gifts that I give be enjoyed? Are the kids excited and ready for Santa? A hunter's mind solves problems, plans events, relaxes, and celebrates life as we sit alone in the forest. Time passes slowly and you must pay total attention to sounds, movements, and smells.
"Is that deer that I smell?" Sure enough, I could smell the musky smell of deer. The wind was perfect, and the humidity and cold air carried the scent to me. Time to get ready.
My gun was positioned where I thought I would get the best shot at 50-75 yards. The Hawken rested on the forked stick. The hammer was half cocked and all I needed to do was to set the hair trigger. Deer were everywhere. More than a few dozen were heading my way.
I was hoping for a buck. Meat was not a priority and a memorable Christmas buck would be a fine gift. I moved my head slowly and saw only does. They were all around me and on top of me. Several were just a few feet away. They had come over a small rise and the sun was setting behind them. I stayed perfectly still and focused.
After a herd of does had passed, I saw more deer coming from the sunset. It was getting late and light was going down fast. Suddenly I saw antlers centered in the setting sun. It was as if the buck was wearing a glowing crown. He was coming down the trail where I expected a shot.
When things go right, all is perfect. The buck stopped broadside at 50 yards, I set the trigger, took a full breath, let half out and gently squeezed the trigger. The Hawken surprised me as it exploded in flame and smoke.
It took some time for the smoke to clear and my eyes to adjust. When they did, I could see my Christmas Present laying where he stood.
Respectfully, I made a silent Hunters Prayer of thanks for this wonderful Holiday present.
Montana Grant
For more Montana Grant. Hunt him at www.montanagrantfishing.com.